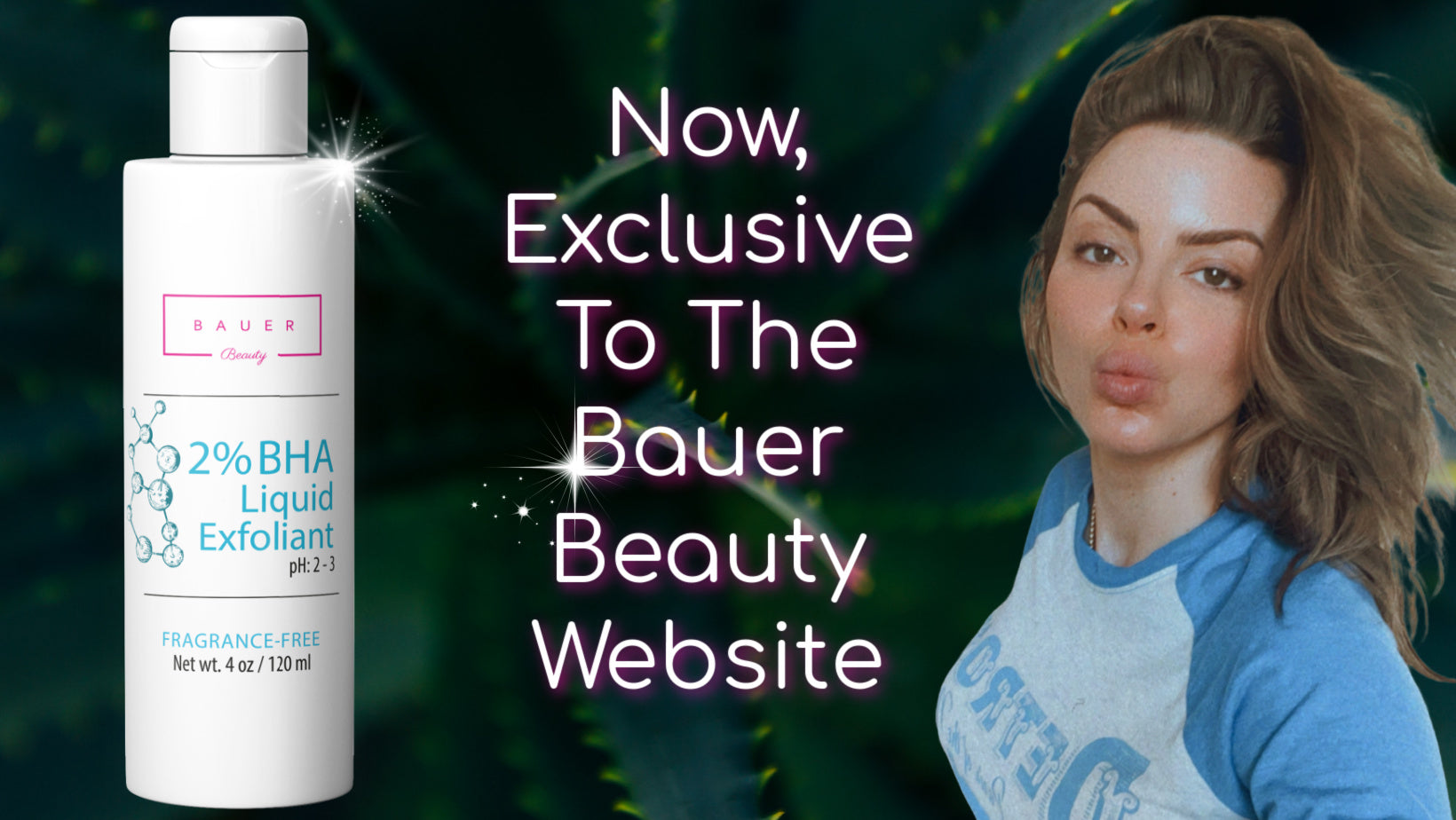 News flash.... I'm obsessed with my new BHA
So..
The craziest thing happened 2 days ago.
I used my BHA on my face for the first time.
YES some of you may think I'm crazy for wanting to sell something i had never even used on my face
But I used it on my body and knew it was a good formula
My chemist is just the shit so I trust their team
ANYWAYS
I used it on my face
And i think I fucking am in love. 
LIKE
You guys.... 
If you know me, you know I do NOT use sal acid on my face
I launched this product strictly for you guys (BHA one of the most popular SKU's in the industry)
BHA is harsh though
Using BHA historically has always always always caused me to break out
In school we learned part of the reason was because the acid enters the pores to exfoliate, 
And sometimes debris gets broken up and isn't fully removed
Resulting in a breakout
But another reason is because of tolerance
A low tolerance for sal acid will cause skin to breakout
BUT.
BUTTTT
Lately I have looked at my skin and thought...
YO i need to start using sal acid. Like..I know. 
I can see it
Its part of my strong skintuition
My strong connection to knowing what my skin needs
So,
I sent myself one of my 2% BHA's from my website 
And I received it and wow its sooooo freaking cute first of all
Its a white matte label and the design is adorable
AND 
Which suddenly occurred to me,
May in fact be the game changer
It may be the step that I've never trired before that allows me to get the benefits from sal acid
Without the irritation
Why didn't this occur to me before?

I wrote the damn instructions and all like LMAO
So what made me realize i needed sal acid?

Well first, I'm oily and have pores 
I get sebaceous filaments
I really dont have fine lines or wrinkles
But I could see texture on my skin related to my pores
And i thought my aversion to BHA was maybe symbolic
So...
I tried it
I tested it Saturday night after I got home from Denver
I applied a few layers to my forehead and nose, and a little on my cheeks-
Left on for maybe 2 mins and rinsed
And my skin looked freaking amazing. 
AMAZING
And zero irritation
Now I know why all the girls like sal acid
But I also know a lottttttt of you in the same boat as me
Sensitive to sal acid. 
Well thats the solution, rinse it off. 
Mine is most definitely a rinse off product
Its really strong
The fact it contains alcohol bothered me at first, 
but I asked the chemist why he did that and said helps with solvency and that it was likely to evaporate and not actually affect the skin negatively
And one thing i've learned is to stop acting like i know more about how chemistry works than chemists
The most annoying thing happened to me with this product though
LIKE SO ANNOYING
My lab would not let me write 2% BHA on it.
Because of FDA labeling guidelines, you are not allowed to write 2% because that is the "monograph level" and you need FDA approval in that case to label it like that
Freaking bs cause everyone and their mother labels their product 2% BHA
And i dont have an attorney yet to help me figure out the loopholes how people get away with it
But I did talk to Farmacy and this is what they said:
"The product development department follows the standard ingredient listing guidelines. This means that everything above 1% is listed in order of percentage. They are not actually solubilizing salicylic acid in our formula but neutralizing it with a base."
So idk wtf that means!
My best guess- there isnt a pure 2% sal acid in the formula, its neutralized? 
That still doesn't explain the labeling issue
I never got a response from Paula's Choice, but my lab said they had FDA approval
Anyways... long story short, mine does not say 2% BHA on the label even though it is. 
And because of my newfound excitement for my 2% BHA I'm formally launching it on my website as an individual product.  
But I will formally launch it by itself too, either this week or next week I haven't decided. 
---